Rockfall EVO
Hator Rockfall EVO
When your keyboard is your advantage!
HATOR Rockfall EVO combines classic form factor and design with innovative technology. In one keyboard, we combined everything that really matters in the game: the maximum reaction speed of the switches, high reliability of the case and amazing backlight.
Kailh Optical Black switches guarantee an incredible response time of 0.2 milliseconds and have a resource of 80 million clicks.
Kailh Optical Black Switch sound
Onboard memory – save and play! ability to record and save macros without using software.
There is no limit to accuracy. 1000 hz polling frequency allows you to register every keystroke instantly, and the n-key rollover function means zero missed keystrokes – no matter how many keystrokes you make at the same time.
Rockfall EVO is designed to provide maximum performance at the highest loads. Thanks to the metal plate, the reinforced printed circuit board and the robust housing, you will always be sure of the reliability of your keyboard.
Fully customizable RGB backlight for each key – a choice of 16.8 million colors. Five backlight brightness levels and variability of predefined effects.
One of the main features of optical switches is the ability to hot swap them. You can distribute different types of switches as you wish.
Sliding the keyboard on the working surface prevents rubber inserts located along the perimeter of the bottom. And the legs with the possibility of three-position adjustment will help you choose the most convenient angle for working with the keyboard.
9 ADDITIONAL PINK COLOR (FOR ROCKFALL EVO WHITE – YELLOW COLOR) PBT KEYCAPS FROM THE BOX ALREADY. THIS OPTION WILL HELP YOU TO COLOR THE KEYBOARD , BESIDES PBT KEYCAPS RESIST TO WEARING MUCH BETTER SO THE MOST POPULAR BUTTONS AT GAMING PROCESS ARE HERE. BRING IT ON!!!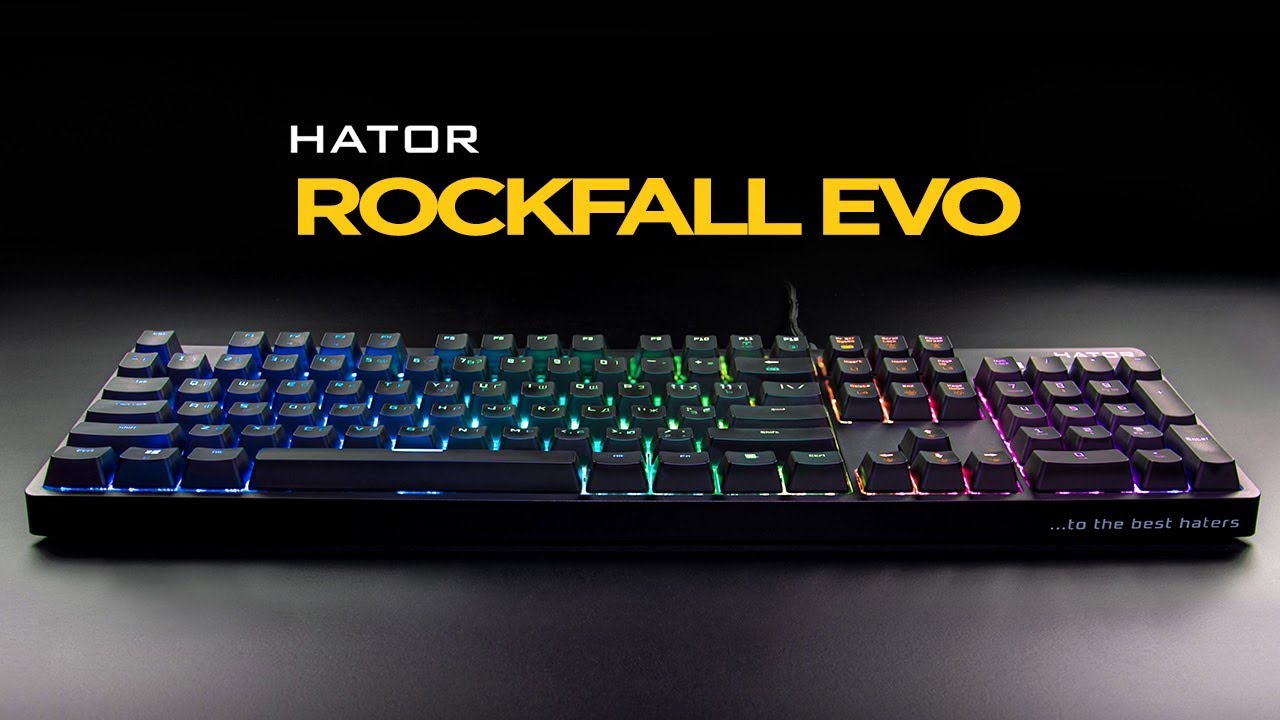 Backlight effects

Select one of the backlight effects:
Download software (for keyboards from 02.2022)
Size

| | |
| --- | --- |
| Lenght: | 439 mm |
| Width: | 133,8 mm |
| Height: | 35,5 mm |
| Weight: | 1115 g |
| Cable Lenth: | 1800 mm |
Specifications
Number of Keys:
104
Type of Connection:
USB 2.0/3.0
Polling Rate:
1000 Hz
Backlight:
RBG 16.8M Colors
Tilt Stand Adjustment:
3 levels
Type of Switches:
Kailh Optical Switches Black
Operating Life:
80M Cycles
Operating Force:
45g «+/-»10%
Delay Response:
0.2 ms
Pre Travel:
1.8 «+/-» 0,6 mm
Total Travel:
3.6 «+/-» 0.6 mm
Layout Type:
Laser Engraving
Hardware System Compatibility:
Windows XP/2000/ME/Vista/7/10, Linux and Mac OS
Software System Compatibility:
Windows 7/10
Package Сontents:
HATOR Rockfall EVO Keyboard, Manual, Puller for keycaps, Puller for switches, Nine additional PBT keycaps (Esc, 1,2,3,4, W,A,S,D)
Additional Features:
Metallic plate inside gives extreme durability
The ability to change the switches to another "color" or to combine them with each other