Skyfall TKL
Hator Skyfall TKL
Compact. Eye catching. Universal.
Wireless mechanical TKL keyboard will be your strong teammate. Gaming, working or just chilling on the couch in front of TV – Skyfall TKL will cover all of you needs saving the space and caring about your comfort.
A wireless mode comfort or wired mode super trustworthiness and maxi fast click responses? Now everything is up to you!
An industry and market trend USB Type-C is for charging or wired mode usage.
Quality laser engraved fonts are equally cool backlighted for all languages.
Basic mechanical switchers Gateron Clear are extremely light and liner but you can easily change or mix them with other switchers styles thanks to hot swap function.
A super vivid fully customizable RGB backlight.
An inbuilt keyboard's memory is giving to you power to write, to save and to use different settings without the software.
Comfy drum looking adjuster gives you control over the volume and the light.
In wireless mode our keyboard works with Bluetooth 5.0 This is one of the latest Bluetooth versions which provides higher speed, more stable connection and maximum energy saving.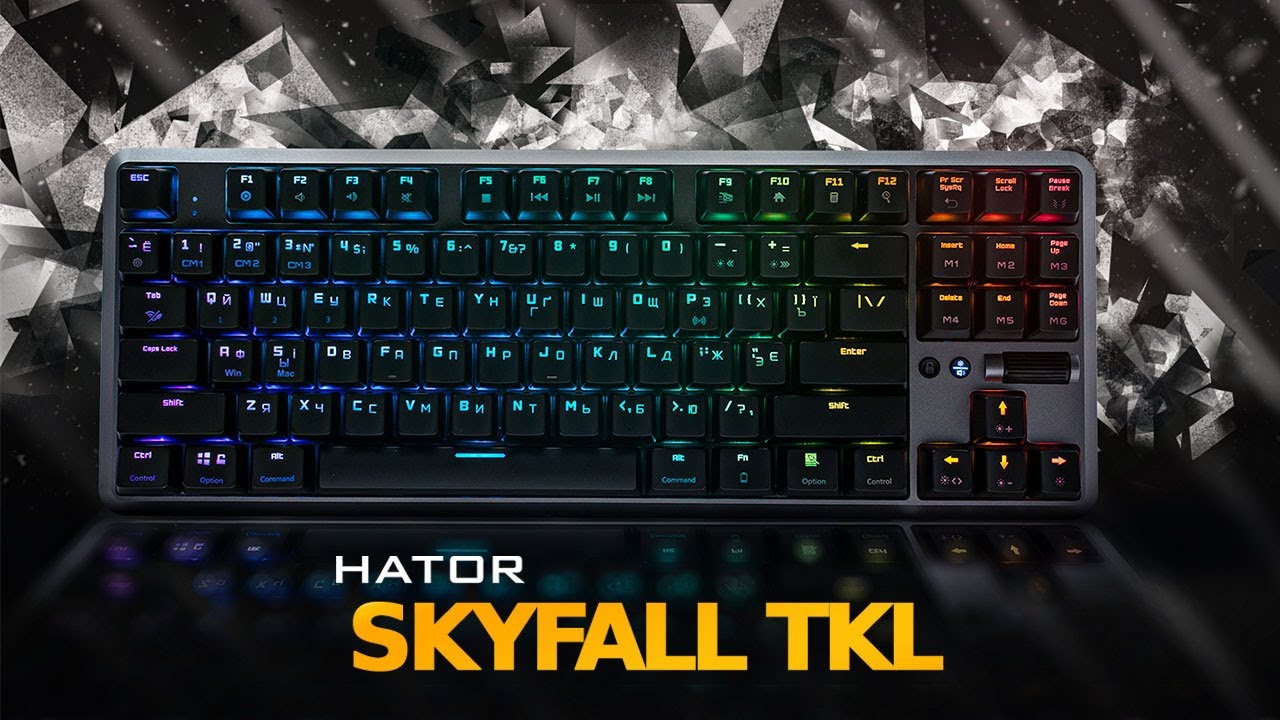 Backlight effects

Select one of the backlight effects:
Size

| | |
| --- | --- |
| Lenght | 362 mm |
| Width | 134 mm |
| Height | 34,5 mm |
| Weight | 860 g |
| Cable Lenth: | 1800 mm |
Specifications
| | |
| --- | --- |
| Number of Keys: | 89 |
| Type of Connection: | Bluetooth + USB |
| Polling Rate: | 1000 Hz |
| Backlight: | RBG 16.8M Colors |
| Usage time: | up to 10 hours at Bluetooth mode |
| Standby: | up to 2 months |
| Operation distance at Bluetooth mode: | 10 m. |
| Battery Capacity: | 2000 mAh, Li-ion |
| Tilt Stand Adjustment: | 2 levels |
| Type of Switches: | Mechanical Gateron Clear |
| Operating Life: | 50M Cycles |
| Operating Force: | 35g «+/-»5% |
| Pre Travel: | 2 mm |
| Total Travel: | 4 mm |
| Layout Type: | Laser Engraving |
| Hardware System Compatibility: | Windows XP/2000/ME/Vista/7/10, Linux and Mac OS |
| Software System Compatibility: | Windows 7/10 |
| Package Сontents: | Hator Skyfall TKL Keyboard, Manual, Cable, Keycap Remover Tool, Switch Remover Tool. |